The creation of proper values that continue on into the future.

Mission 1

Giving back

We will develop geographic bases to support the current generation of seniors, while implementing caregiver development and capacity development for management. In addition, we will actively participate and advise on legal amendments to create a win-win system for all three parties.

Mission 2

Support

WWe will contribute to reducing the burden of employment by providing livelihood support for the older generation (working generation) who support the elderly.

Mission 3

Contribution

To build a social system that fosters the qualities of integrity, honesty, and frankness to support the children of tomorrow.
Greeting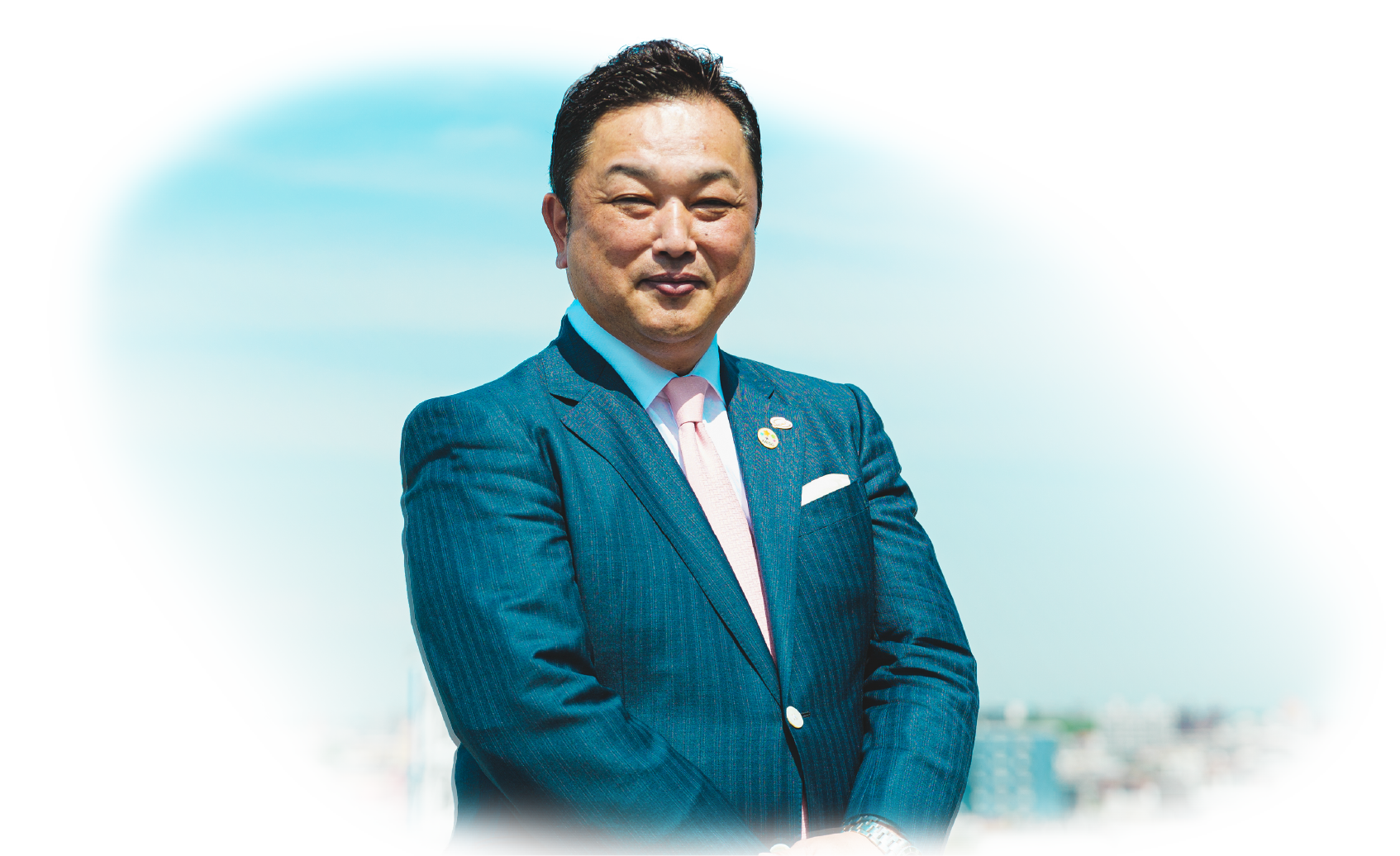 Sakura Community Service Co., Ltd.
Representativ eDirector
Hideaki Nakamoto
Company Profile
Sakura CS Holdings Co., Ltd.
Sakura Community Service Co., Ltd.
Established

January 18, 2005
Company name change May 6, 2018
Capital

3 million yen
Headquarters

6F Sapporo N40 Bldg. 2-7 Nishi 4-Chome, Kita 40-Jo, Kita Ward, Sapporo City, Hokkaido GOOGLE MAP
Representative
Director

Hideaki Nakamoto
Business
contents

・Provision of various care service business
・Worker dispatching undertakings
・Fee-charging employment placement business
・Training business for nurses and caregivers
・Computer software planning, design, development and sales
・Management of nursery and day care center
Affiliated companies /
affiliated organizations

国内

株式会社さくらコミュニティサービス
株式会社悠ライフ
株式会社Sakura create
学校法人帯広堀学園
Established

September 9, 2002
Capital

30 million yen
Headquarters

6F Sapporo N40 Bldg. 2-7 Nishi 4-Chome, Kita 40-Jo, Kita Ward, Sapporo City, Hokkaido GOOGLE MAP

E-mail:

home@sakura-cs.com
Representative
Director

Hideaki Nakamoto
Business
contents

・roup home for the elderly
・ouse for elderly with services
・mall multifunction home

・Caregiver Training School

Hokkaido Governor Designation

Visiting nursing staff training training business stone company Fuku 6092-2
In-Home Long-Term Care Training Training Operator Shiho Shosha No. 657
In-Home Long-Term Care Training Training Operator Shiho Shosha No. 1421
Welfare equipment special counselor Business operator No.41
Nursing care worker practitioner training project

・Temporary staffing / recruitment

Permission number

Labor Dispatch Project General 01-300339
Paid employment placement business 01 - Yu – 300138

・Overseas business
・Software development
・Development of senior care robot
・Consultant on opening and managing medical institutions
・Outsourcing business of medical institution and elderly facilities
Office

Hawaii Office

Po.Box 11938, Honolulu Hi 96828, U.S.A.

E-mail

kaigohawaii@gmail.com

Myanmar Office

Room No.507, 5th Floor, La Pyayt Wun Plaza, Alan Pya Pagoda Road, Dagon Township, 11191, Yangon, Myanmar.

E-mail:

info@polestarkaigoservice.com
History
2002

July

Started preparation for establishment of Sakura Community Service

2002

September 9

Established Sakura Community Service Co., Ltd.

2003

May 30

Designation of senior care staff training business
(石社福第6092-2号)

2003

August 20

Opened Machikado Sakura Hassamu Care Home

2003

October 27

Opened Machikado Sakura Higashinaebo Care Home

2004

January 16

Opened Machikado Sakura Chitose Care Home

2004

March 16

Renamed "Machikado Care Home" to "Mankai no Furusato", Formulated the management policy with the "Six Vows" Code of conduct

2005

January 18

Established Acty Life Support Co., Ltd.

2005

April 1

Business Cooperation with Yuuraku Co., Ltd.

2005

July 1

Organization change of Sakura Community Service Co., Ltd.

2005

August 1

Established Hokkaido Nursing Care Support Center as a specified non-profit corporation

2005

September 13

Opened Group-home Yuurakukan Hiraoka

2005

October 18

Established Yu Life Co., Ltd.

2006

March 27

Certification of Hokkaido Third Party Welfare Service Evaluation Facility
(北福機第53号)

2006

April 12

Opened Group-home Yurakukan Atsubetsu

2006

April 21

Opened Group-home Yu Life Sakura Yamahana

2006

April 25

Opened Day Service Center Yurakukan Atsubetsu

2006

May 1

Opened Day Service Center Yu Life Sakura Yamahana

2006

June 9

Designation of Hokkaido Nursing Care Service Information Search Institution
(介保第285号)

2006

October 16

Opened Japan Fukushi Academy Asabu

2007

May 11

Designation of Home Care Worker Education and Training busines


2007

June 13

Designation of Specialized Assistive Technology Consulting business
(介保第421号)

2007

July 10

Designation of Home Care Worker Education and Training business
(石保社第1421号)

2007

August 1

Open Sakura Care Plan Center

2007

November 6

Business alliance with Relyon Co., Ltd. (Hokkaido District Agency)

2008

February 1

Establishment of Staffing Services Division【Staff Recruitment / placement】
Temporary staffing business siness license (General License number 般01-300339)
Fee-Charging Employment Placement business license (License number 01-ユ-00138)

2008

April 1

~Starting the second foundation~
New establishment of Management vision・Management philosophy・Code of conduct
Open 【Staff Recruitment / Introduction】
Started Cost-Optimization Consulting (CCM) business

2009

October 1

Outsourcing contract with Medical Corporation Association Sakura Yuukai Kita 24-Jo Home Clinic

2009

November 2

nauguration of Hideaki Nakamoto as Sakura Community Service Representative Director

2010

April 1

Open Japan Welfare Academy Otaru School (FC School)

2010

April 9

Open Japan Welfare Academy Odori School

2010

June 4

Open Japan Welfare Academy Sendai School (FC school)

2010

October 1

Open Japan Welfare Academy Chiba Kashiwa School

2010

December 1

Open Japan Welfare Academy Saitama Urawa School (FC school)

2011

January 17

Open Japan Welfare Academy Kochi School (FC School)

2012

June 1

Approval of Management Reform Plan


2012

October 1

Outsourcing Contract with Medical Corporation Association Tomonarikai Koto Family Clinic

2013

September 18

Open Japan Welfare Academy Takamatsu School (FC school)

2014

March 1

Open Japan Academy Fukuoka School (FC school)

2014

September 6

Started Care Facilitation Program

2015

April 30

JETRO Professional Utilization Subsidy Business Certification for Overseas Deployment

2015

July 22

Established Polestar KAIGO Service Co., Ltd.

2015

August 28

Approval of Chubu Bureau of Economy, Trade and Industry for New Business Collaboration Plan
Business name: Long-term care service support business centered on Innovating Interactive Communication At Nursing Care Sites (nursing care records / management)

2015

November 2

Open Japan Welfare Academy Gifu School (FC School)

2015

December 10

Name and location change to Specified NPO Japan KAIGO support center

2016

February 3rd

Approval of Kyushu Economy, Trade and Industry Bureau for New Collaboration Business Plan
Business name: Development and Sale of Telecare System to Improve the Quality of Elderly Medical Care

2016

February 15

Established Japan KAIGO Software Co., Ltd.

2016

July 15

Hideaki Nakamoto became the chairman of the board of Obihiro Hori school to establish a Japanese language school

2016

December 27

nursing care .net business cooperative was established

2019

July 29

SCS GLOBAL HONGKONG CO., LIMITED